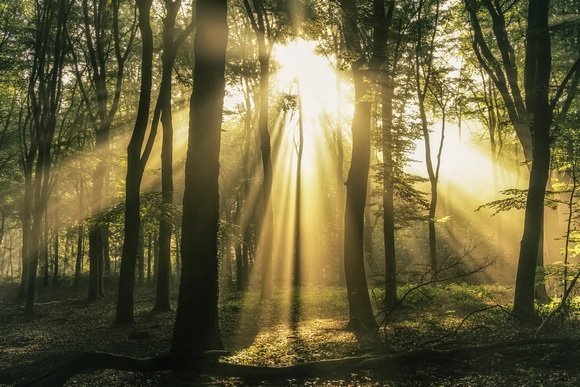 Picnics in the park, Pimms o'clock, barbecues with friends, trips to the seaside and ice creams all round. I love Summer.
Actually if I'm honest, what I love most about Summer is being warm. My family will tell you, I lose all sense of humour and inability to function when I'm cold. I'm a complete sun chaser. I'll move my chairs incessantly around the garden and always place part of the picnic blanket in a patch of sunlight if others want the shade of a tree. I set up lockdown life to a tee: morning home school in the garden and afternoon outings once the sun disappeared behind next door's roof.
I love being warm and so I seek out the sun. Oh how I am grateful for this particular creation of God that is so generous in shining out and giving of its heat and light in rays and beams. By its very nature, in the way God created it, the sun is disposed to shine out and as long as God sustains the world, the sun will have light and heat in itself to give out.
As with the sun, God cannot but shine out, as he communicates his very essence with his creation. God desires to be known. He delights in making us and his world more beautiful by sharing with us who He is. He has an infinite source of holiness, of beauty, of perfection, an infinite fullness of joy and happiness as Father, Son and Spirit. This, he spills out to us, communicating to us, even sharing with us, and beautifully shining upon us. He can do this with no lack to himself, losing nothing of who he is, depleting no store of his joy as he fills us with His, dwindling no supplies of knowledge as he shares with us.
And he does all this by nature of who He is as a generous, revealing, communicable God, who cannot contain his glory, but must reveal it. Like the sun that must shine out in beams, so God must radiate his glory and shine out who He is.
Although I love the Summer for the sun, it does continue through the seasons. I know this sounds obvious, but it always surprises me! Autumn is actually my favourite season, and the forest walks (obviously  embarked upon with at least 3 pairs of socks and 2 jumpers) are all the more beautiful on the days the sun is not obscured and its beams dart through the dancing leaves. All that the light shines upon is made more beautiful by its illumination. The sun's nature is to share, not keeping its worth to itself, but sending out to brighten other things, to allow all that it falls on to benefit from all that makes the sun, the sun.
So it is with us as God shines on us, and we are made more beautiful, not by God shining on a beauty separate from and already existing besides Him, but as we receive and then radiate out to the world the beauty and glory of God.
Just as a sunny hot day in Summer leaves me craving more, as I chase the sun around my garden and Oxford because its heat and warmth has proved far more appealing than the cold and darkness, so too the more God's divine communications increase in us, the more his light shines on us, our hearts are drawn nearer and nearer to God.
Having found and experienced God we pursue him further, and he shines the more brightly on us. We become beautiful reflectors of his light, of who He is, to the world.
So chase the sun this Summer, and when Autumn does come around, when the clouds obscure or the forest canopy gives you snatches, be assured the Sun never stops shining.
Receive all that our communicable God radiates onto us and bask in beholding the glory of God.
( Prompted by Jonathan Edwards, The End for Which God created the World)